Paula Stromberg brought her employer organizations national and international communications awards every year for 19 consecutive years – and she has won 50 awards in her career. This feat is unmatched by any writer or communicator in the Canadian labour movement. Here is a selection of her work.

Feature stories documenting a Canadian union's epic court battle to separate from its US-based parent union and declare Canadian autonomy.
Union fails in court bid to force the British Columbia government to hold public hearings into their move to turn over vast BC power resources to a foreign corporation, Accenture.

Racism – it hurts. Award-winning Feature Story about a First Nations woman talking about her experience with overcomingdiscrimination in a unionized workplace
Read a Special Report on a union fight to maintain public control of the British Columbia electricity system and stop the provincial government from handing over BC power resources to foreign corporations.
Data Mining – concerns about a multi-national corporation's control over Canadians personal financial, medical information, driving and property records.

Union offers Gay & Lesbian Business Directory, human rights brochures

and sweatshop alerts.
Legal challenge on pricing discrimination by private automobile insurance companies on basis of age, sex or marital status.

Painter Riel Benn, a Dakota born in Manitoba uses consumer magazines like Rolling Stone and Time to celebrate historical figures like Chief Poundmaker and Quanah Parker.
Union stops transit company demands for post 9-11 USA-style security checks.
Comedian and Union Rep Ardell Brophy, and her partner Lee Ann Keple raisemoney for Hurricane Katrina survivors.

Company owns employee's 'million dollar' invention.
Drug testing by surprise at work.
Exploding stigma of mental illness. Bipolar affective disorder and discrimination.
Stromberg wins Best National Newspaper Award from Canadian Association of Labour Media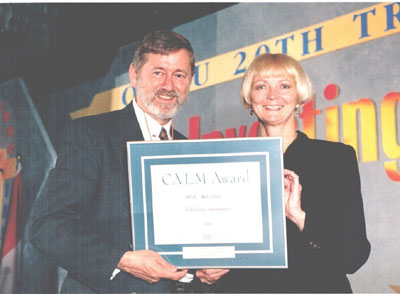 International OPEIU President Michael Goodwin recognizes Paula Stromberg for winning the Canadian Association of Labour Media award 1994 for the Best National Newspaper in Canada.